Biomass Briquette Making Machine
Biomass Briquette Making Machine
Details
Product Description
Biomass briquette making machine, also known as the biomass forming machine, is the equipment for producing biomass briquette charcoal. The waste of agriculture and forestry biomass is compressed under high temperature and high pressure process without any binder by spiral propeller and heating coil. During the period of forming a high temperature and high pressure space, the loose biomass raw materials are extruded into hollow solid fuel rods (also called raw briquettes or fuel briquettes), the finished briquettes are commonly 40-80mm size, hexagonal hollow shape, which are dense with high density, flammable feature, and can be used directly replacing coal and firewood combustion function. In addition, the biomass briquettes also can be carbonized by carbonizing furnace into charcoal briquettes, which are top quality of BBQ charcoal and popular in BBQ restaurant use.
What are Biomass Briquettes?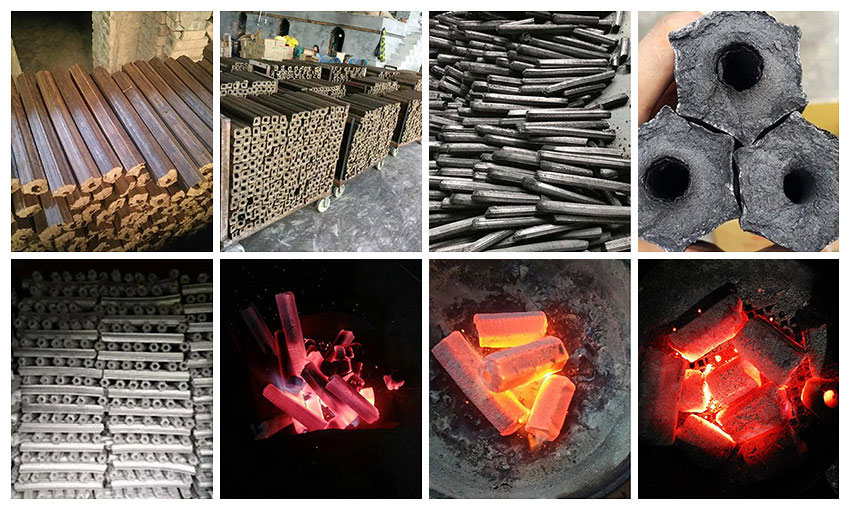 Biomass charcoal briquettes
Biomass Moulding Fuel ("BMF" or Biomass Briquette) is based on agricultural and forestry residues, which are under the process of chipping - milling - screening - drying - briquetting/pelletizing - carbonizing - packing and finally converted into a variety of shapes (such as block and granules) environmentally friendly fuel. The finished forming briquettes/pellets are one kind of clean fuel that have features of high calorific value, full combustion and can be directly burned.
Application of biomass fuel briquettes
Civil heating use, clean, non-polluting, easy to store and transport;
Industrial boilers and kiln fuels, replacing coal and gas to solve environmental pollution;
As fuel for power plant to solve the problem of polluting environment;
BBQ charcoal.
Applicable raw materials

Applicable Biomass Raw Materials
Wood (sawdust) as the main raw materials, branches, straw, cornstalks, sorghum poles, corn cobs, straw, rice husks, peanut shells, bamboo chips, peanut skin, sunflower seed shells, oil tea shells, cottonseed hulls, furfural slag, wine Slag, mushroom stick, bagasse, corn cob, coconut shell, coffee shell and other agricultural wastes and livestock manure can be made into biomass fuel. The best materials are wood sawdust, shavings and bamboo chips, the biomass briquettes from which have high density and high calorific value with smokeless, odorless, non-polluting, non-explosive and flammable features. It is an internationally recognized green environmentally friendly fuel. The following are several types of biomass fuel charcoal with high carbon content, high density, long burning time and high calorific value.
Pine wood: Almost all pine can be used;
A variety of fruit trees and hardwoods, such as birch, eucalyptus, dried green willow, and some fruit trees and various bamboos, the growth period is normally between pine and softwood hard.
Advantages & Features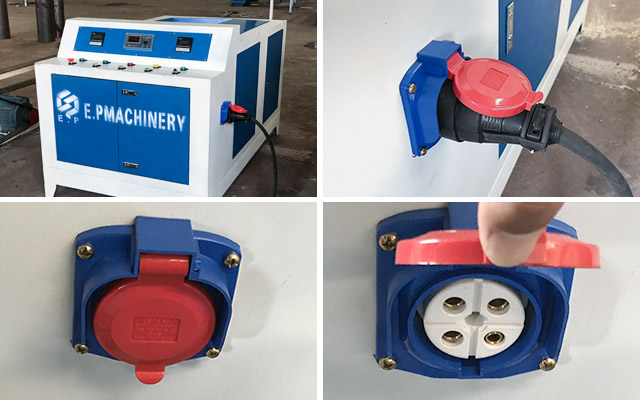 1. Safe and convenient Plug & Socket
There is no need to open the electric cabinet and connect the wires, just connect the wires to the plug, then connect the plug to the machine, that will be ok, which is very safe and convenient.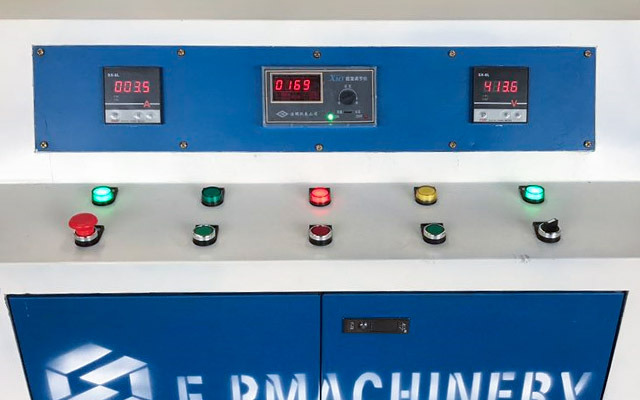 2. More convenient and reasonable operation panel
As for the three monitors, Voltmeter, Ammeter and Thermometer, we remove all the pointer type monitors, replace with the digital type monitors, which is more accurate to show or control the parameters. One more thing, it will also be more convenient for the workers to operate the machine.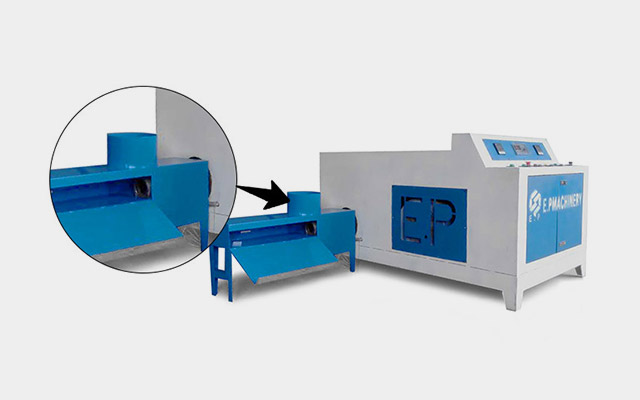 3. More reasonable outlet to avoid smogs
The updated machine is equipped with a closed outlet. On one hand, it will be more convenient for the workers to collect the cut briquettes efficiently. On the other hand, there is a hole which can be connected to a pipe, to release the smogs outside the workshop, which is very environmentally friendly.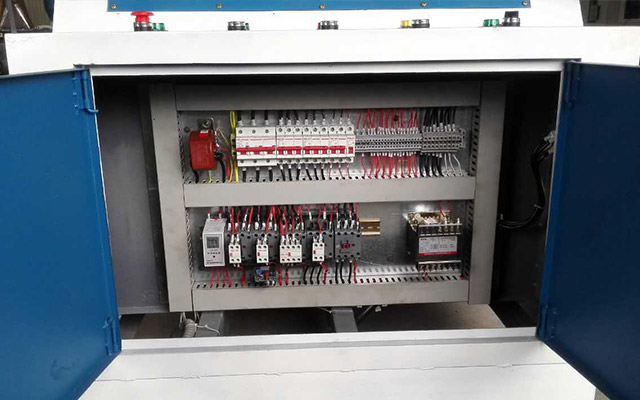 4. Normative layout of the electric control system
All the electric wires are orderly arranged in the wire casing, it is very convenient for the workers to maintain the electric control system. Besides, there is a voltage transformer, which can transform the high voltage to 24V. Therefore, it will be very safe for the workers.
Workflow
Converting biomass agricultural materials into biomass fuel briquettes is a systematic work. The whole production process includes: Crushing — Drying — Briquetting — Carbonizing — Packing.
The first two processes can be considered as preparation processes, that is because the biomass materials need to reach the flowing two points before compressing:
A. the size should be less than 5mm, during this process, one or two crushing machines can help users get powder materials.
B. the moisture should be less than 12%, here one drying machine can reduce the water content.

The workflow is like this:
Biomass Briquette Production Line
Biomass Charcoal Briquette Production Line
Update Required
To play the media you will need to either update your browser to a recent version or update your
Flash plugin
.