Charcoal Briquette Extruder Machine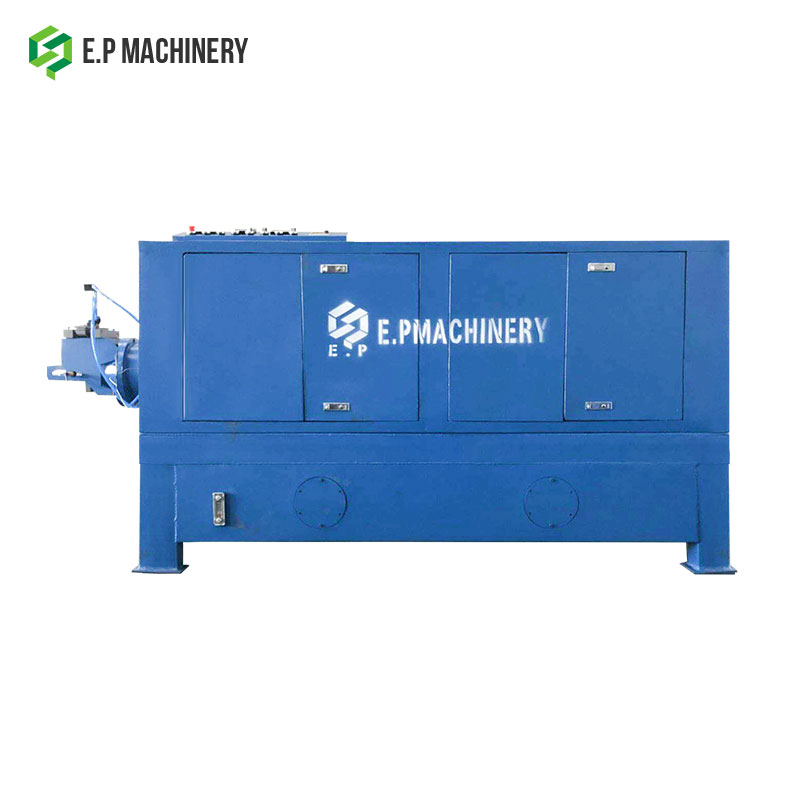 Charcoal Briquette Extruder Machine
Details
Product Description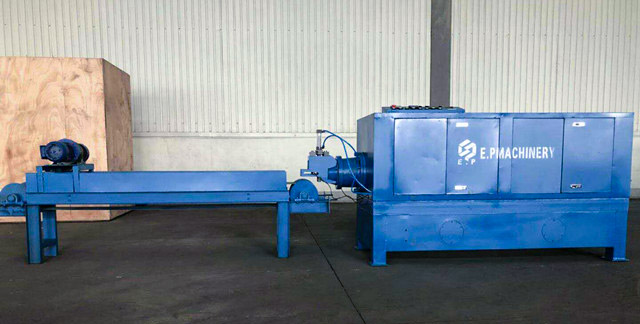 Charcoal Briquette Extruder Machine
Charcoal briquette extruder, also named as charcoal briquette forming machine. It uses the principle of screw extrusion to extrude the charcoal powder, coal powder, carbon powder, and other powdery materials mixed with adhesives, making them into round shape, hexagonal shape or other different shapes briquettes with high strength.

The final briquettes are used as clean fuels, which can be used for BBQ, heating, burning, cooking etc., also can be replaced the lump coal to solve the problem of lack of coal resource. It is widely used in civil, chemical, metallurgical and other industries. Charcoal briquette extruder is an ideal equipment for reducing consumption and increasing efficiency of various production enterprises.
Finished Products

Finished Charcoal Briquettes
According to different requirements, the finished charcoal briquettes can be made into different shapes. Normally, the main shapes are: rod briquettes ( barbecue charcoal, ignition charcoal), cubic shape (shisha charcoal)

The finished briquettes produced by this charcoal briquette extruder machine are with high density, smooth surface , uniform length etc. It is easy to burn and have long burning time. Meanwhile, due to it is a kind of clean fuels, it is harmless to health.
Application of biomass fuel briquettes
Civil heating use, clean, non-polluting, easy to store and transport;
Industrial boilers and kiln fuels, replacing coal and gas to solve environmental pollution;
As fuel for power plant to solve the problem of polluting environment;
BBQ charcoal.
Raw Material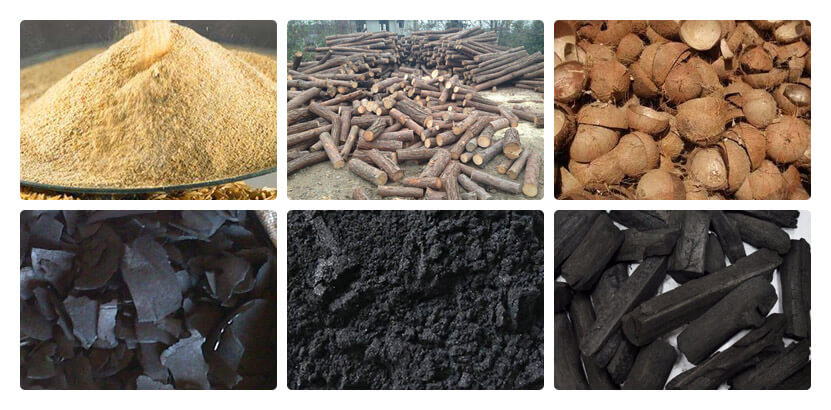 Applicable raw materials
The raw material can be coal, charcoal, coke etc. In addition, if the raw material is biomass with lignin, such as coconut shell, rice husk, sawdust etc. E.P company can supply different carbonization equipment to help customer carbonize the raw material into charcoal for briquetting.
Workflow
Through the high extruding pressure during the pressing process, the raw material charcoal powder and binder will be pressed into solid charcoal briquettes. The basic processes are list as below. Not all these processes are necessary, it all depends on the situation of your raw materials. Please don't hesitate o contact with us if you need any suggestion on charcoal briquettes production.

The workflow is like this:
Charcoal Briquetting
Biomass Material Briquetting

Workflow of Charcoal Briquette Extruder production line
Advantages & Features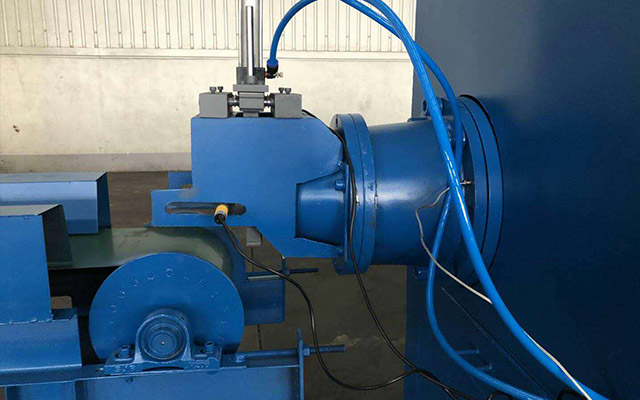 1. Pneumatic cutter
More precisely cut the finished coal briquette, or charcoal briquette, so that customers could get the same length briquettes. Cutting range is higher than 2.5 cm.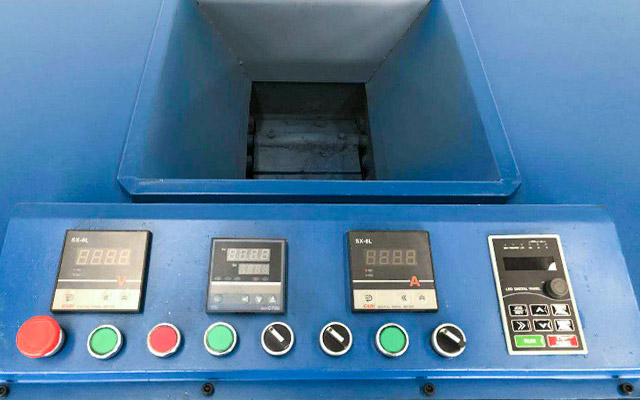 2. PLC control panel
Users can operate the machine more conveniently and easily. Even new staff can master it very well in a short time.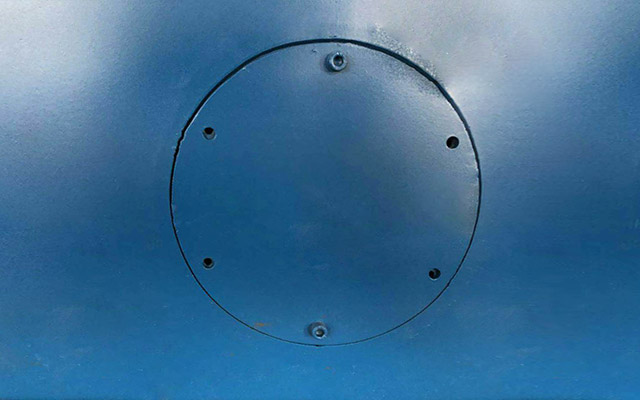 3. Water Tank Cleaning Outlet
It is used to cool the mold to reduce the high temperature caused by friction extrusion, prolong the service life of the mold.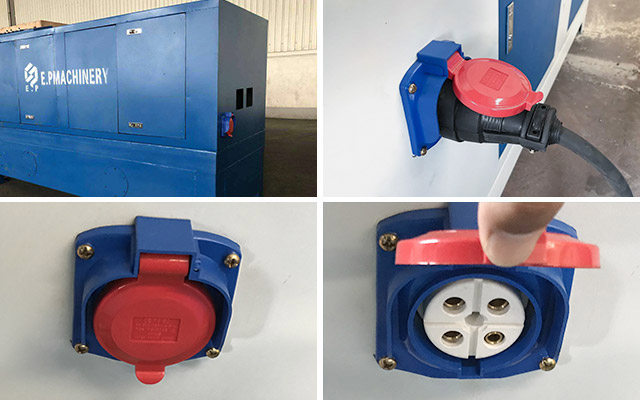 4. Safety plug
There is no need to open the electric cabinet and connect the wires, just connect the wires to the plug, then connect the plug to the machine, that will be okay, which is very safe and convenient.
Update Required
To play the media you will need to either update your browser to a recent version or update your
Flash plugin
.